Everything seems to be working at present from my end, although I understand there are still live streaming problems.  I've contacted Scott about this.    In the box, all is going smoothly and I'm hoping to have some hatching by 25-28th September, which I can record if all the necessary equipment is functioning smoothly.   Xavier did bring in some (unidentifiable) prey today, which is a good sign.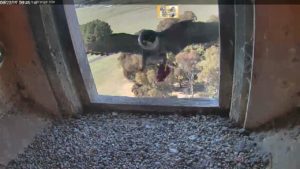 Many thanks for all the photos and videos.   No need to send more photos at present, but long low resolution videos from between 1300 h on 18th September to noon on 21st would be welcome so I can fill in some gaps.   If there is a website where these are stored, please point me in the right direction.  Don't try and email them.
I just went through the volunteer's work from the time I was in Brisbane and found this photo of Xavier with the eggs that I couldn't resist.  Such a good boy.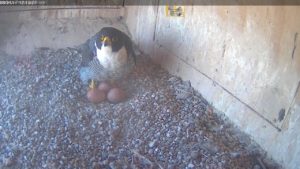 There's going to be a university wide power outage tomorrow morning, so I wouldn't be surprised if the system is down all weekend.   Hopefully it will be up again before H day (possibly Monday).
Have  a lovely weekend.   Cilla