Dr Zubair Medammal, Assistant Professor in the Department of Zoology at the University of Calicut in India, expert on peregrine falcons, will present a free lecture sharing his insight on topics such as the majestic birds' hunting, feeding, health, breeding and threats.
The date is Monday 30th September, venue Building 1004 Room 120, Charles Sturt University, Orange campus, Leeds Parade, North Orange.
The evening will start at 5.30 pm with a short visit to the water tower to see the nest-site.  Here I will give a short talk on the Peregrine Falcon Project, which has been running for eight years.   This will be followed by light refreshments and Dr. Zubair's lecture.
We are really fortunate to have someone of Dr. Zubair's expertise to visit Orange, let us in to some of his insights from his many years of peregrine research and hopefully give us some feedback on our project.
If you interested in attending, please register by email: ckinross@csu.edu.au
And here are some photos from this week, provided by Holly for your enjoyment.  She has produced some great pictures.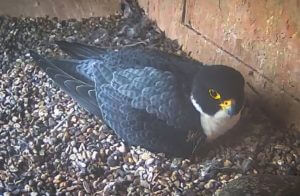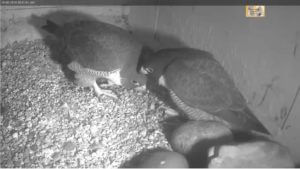 Not much other news.  We got a decent drop of rain this week (at home, 5 km from here, we got nearly 25 mm) and expecting a bit more today.  Drought leads to a rapid drop in numbers of birds (lack of insects, nectar and fruit), and consequently less prey for the peregrines.
Xavier, the tiercel,  has not brought many prey to the box, so is either leaving it in a stash, or more likely is simply giving the falcon a chance to hunt for herself.
Have a great weekend.