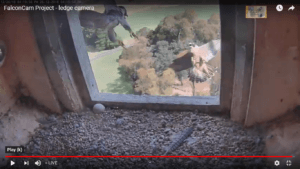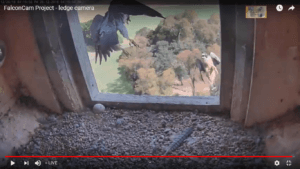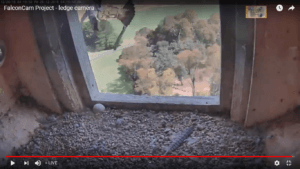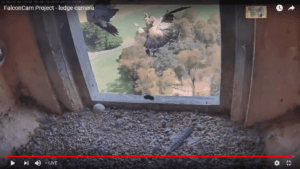 I thought you might enjoy these photos captured by a longterm falconista, Sue Hines, from Victoria (Oz) of we think Gaama and Diamond have a bit of a biffo just outside the box, no doubt something to do with food (or lack thereof!).    Well caught, Sue!
I'm pretty sure there is just one juvenile still around (Gaama, who is clearly a male, and was misidentified by myself, egged on by others, as a small female).  Yesterday he spent about 3 hours in the box and I have some video of this and will put the links up tonight.   They are still eating cicadas, but I'd like to hope the youngster is catchng more substantial prey by now, before heading off into the wilds of New South Wales.   I haven't been able to catch a photo of Gaama in the field recently.
The last juvenile last year left on January 21st, so this one might be around a while longer, but could leave any day.
Thank goodness the extremely hot conditions have eased.  They make hunting hard as the other birds are only out very early in the morning, or late at night (me, too!).  This week has been cool and damp, with some heavy duty thunderstorms thrown in for good measure.
I'm going on holiday to northern New South Wales, leaving on Thursday, back on Sunday 20th January, and will be in a cottage by the river Bellinger with (I suspect) no wi-fi, and busy all day and night with things musical, so  I probably won't be posting much while I'm away (I only have a prepaid mobile modem to play with).   But I can read your comments!    And I'll check into the youtube chat from time to time.  I need to know when the last sighting of Gaama is – that's VERY important, folks!
And thanks to Scott for the update.    Signing off for a while.