Over the weekend and this morning, both juveniles have paid visits to the nest, as well as being sighted in and around their roost trees.  They are getting harder to photograph in the field as they have become more wary of my vehicle or person, but I have some from the box.
As you've probably gathered, I have a Youtube account now, so you can go back and check on previous videos if you cannot find them here or on the google hangout.
The juveniles are getting to be large and strong – and very cheeky.  I originally thought this was Budhin, but when I look at the image from the ledge, I think it's actually Gamma.   Anyway, this bird  is giving their mother, Diamond a hard time.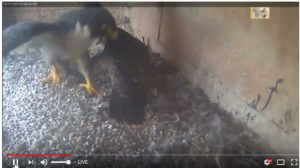 VIDEO https://youtu.be/eUJ8UxCn25k
And another view of this altercation:  the image is of Diamond
VIDEO: https://youtu.be/VosPtkPELaE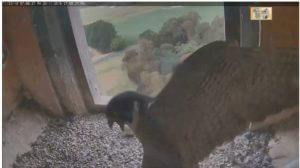 We had a visit from a juvenile starling.   A big rash, considering how often this species ends up as dinner.
VIDEO https://youtu.be/8K3epPNW3d4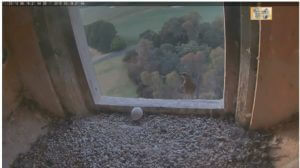 I expect the youngsters to start spending a bit more time further from the nest and the roost trees, so it might be a bit harder for me to catch up with them, but I will do my best.     Last year, the male left the district after only 3 or 4 weeks (or at least I couldn't find him), but the female stayed around until late January.