Our siblings get on very well together, spending most of the time cuddled up for warmth and/or company.  They are, however, starting to develop some independence and have been scooting around the box, exploring the box's limited extent.  And we have noticed the first instance of sibling rivalry – nothing very serious, just a short-lived tug of war.
VIDEO  20181022 0638 tug of war with Di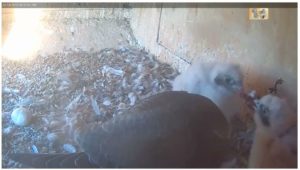 Most of the prey has followed a common pattern; Xavier (the male) brings in starlings – and recently, juvenile starlings – and larger honeyeaters, smaller parrots and pigeons, as well has some tiny prey and  Diamond (female, larger and stronger) brings in the more meaty prey, including one huge pigeon, definitely not a native species, but seemingly larger than the normal feral rock pigeon, too.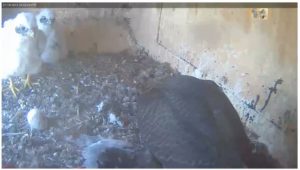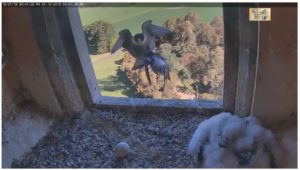 And here is one very independent 27 day old, having a good preen and stretch (not much else to day as prey has been scarce today).  and a very well aimed poo shot on his/her sibling!
VIDEO 20181022 1527 bored chicks