This morning both parents landed on the ledge at once, causing a few anxious moments as it looked as thought they might collide.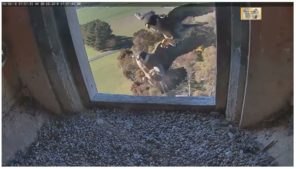 VIDEO:  20180930 0757 both land on ledge
There is no third hatch (and seems less and less likely) but the two chicks are doing very well.  Plenty of food coming, so much so that Diamond is still rejecting some (well starlings, anyway).  We think Xavier might have brought in a rail, too, which is unusual.
Here is Diamond feeding the two youngsters: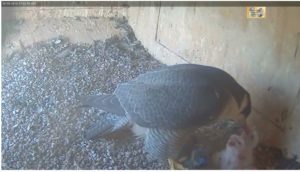 VIDEO: 20180930 0703 feedng 2 chicks
And finally, Dad is also getting short turns at keeping the chicks warm, although I haven't seen him feeding them yet (he tries, but Diamond assumes he is incompetent and takes over).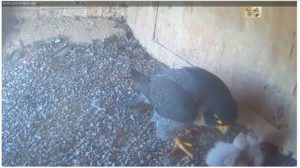 VIDEO: 29180930 0746 Dad takes over