Our two youngsters are doing very well, eating like piggies – see photo supplied by supporter 'Moka'.   This is the female, Diamond with her chicks.
You'll notice that the third egg is s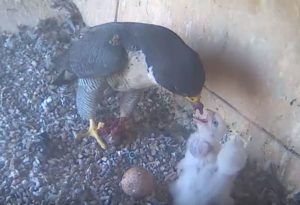 till with us, but is clearly non-viable.  Diamond is still incubating it from time to time, but I suspect she will quickly lose interest.  It's exactly the same scenario as last year. Two healthy chicks and one bad egg.  But in the immortal words of Meatloaf: 'two of out three ain't bad'.
Prey has included the usual starlings, eastern rosellas and pigeons, but also what I think is a rail (basically, from the shape of its legs and feet), although it was rather pale for a rail (there's a song in that:).  Conditions for hunting have been very good, if occasionally too windy, but there is rain on the way, possibly starting tomorrow, so I hope Xavier has the roost tree well stashed.
We have started considering names for the two eyases.   I have taken ten suggestions (from the Youtube Chat) and they will go to the vote by CSU staff, and web visitors, so I should have names in a week.  I am NOT going to try to tell them apart, however, unless there are obvious differences – that way leads to madness! After 3-4 weeks, however, females should appear a bit bigger (and often bolshier).
The names that staff (and you) will get to select from are:
Cloud, Dust, Breeze, Sunny, Gamma (Wiradjuri for 'Storm'), Fog, Rain, Burrawarra (Wiradjuri for Dusty), Rainbow, Budhin (Wiradjuri for Sunbeam).  My apologies if you choice didn't get up, but more than 10 seemed to be over-complicating things.
You can have a vote here too.  Just pick your two favourite names and put them in the comments section.   DEADLINE Monday 8th October.
Although Diamond does most of the feeding, Xavier is always keen to try his hand and just occasionally, he gets his way.   You can clearly see the difference in these two photos, too, between the much smaller and brightly coloured male.  Mind you, the chicks have grown so much in a day or two, that difference is not as obvious as it should be.
VIDEO  20181001 Xavier feeding chicks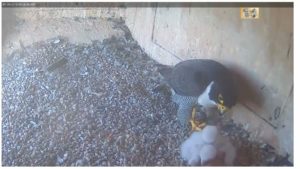 All the best.  Cilla