Well, I didn't have to look for him for long.  He's come back to the nest and is sitting there as I type, looking like Lord Muck.    This is not unheard of, but fairly unusual, particular so fast after fledging.   It's a really long flight uphill for a young bird!
Now we just have to find Marragaay.    The bird spotted in the trees earlier this morning was probably this one as the observer (who is very experienced) said she thought it was probably the male.
Thanks to all those eyes out there helping to spot our youngsters.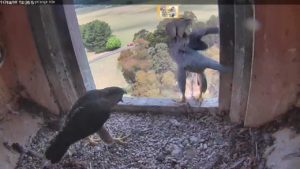 VIDEO 20171114 Bali comes home