Bali has revisted the box three times since he has fledged.   And, whilst it is likely that the parents have found and are feeding Marragaay, Bali is getting lots of attention, too.   Since he returned on 14th he has had at least three juvenile starlings (from Xavier), 2 unidentified, (one possibly a large honeyeater), 1 pigeon (Diamond) and he has definitely grown.   Going by my rather crude screen measurements, he is pretty much as tall and wide as Xavier now.  And feisty!   Here is seeing off Xavier after grabbing the prey.  This was yesterday
VIDEO  15_11_2017 Bali sees off Xavier nest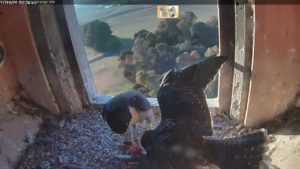 VIDEO  20171115 Bali sees off Xavier ledge
Today it has been raining, but not that hard.   At 1.15 pm Bali left and returned again to the box in a rather inelegant fashion.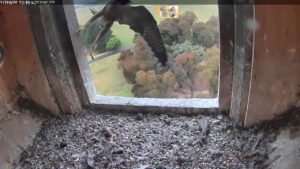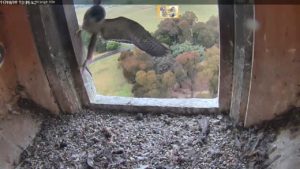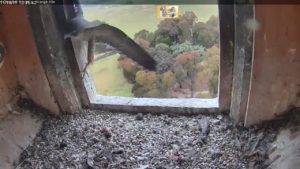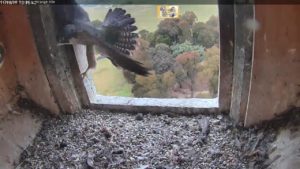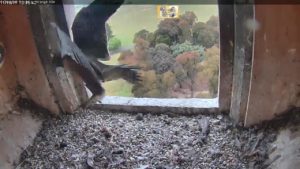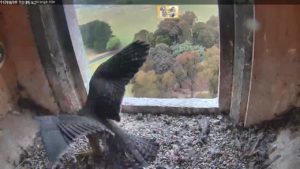 VIDEO   20171116 crooked landing
I think I mentioned that I did find Marragaay yesterday.   She had worked her way down to near the  main entrance and was sitting on some pipes, not far off the ground.   I did try and catch her, but she is flying weakly, but okay, so she too off.   Unfortunately, she went out of my sight very quickly, so I wasn't able to gauge the distance travelled, but she wasn't flying high, so probably not very far.    She seemed fine.    I haven't seen her since, despite considerable searching, but am expecting her to find her way back to the park opposite the nest box within a day or two.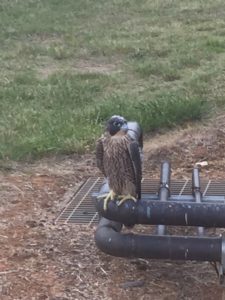 Hello, Marragaay, how did you get here?