Now (this morning) almost entirely in juvenile plumage, with the box gathering their baby fluff, our two youngsters will be off fairly soon.   My guess is that our baby, Bali, the male, will probably go first and that they will both go next week or weekend.  Bali's plumage is more advanced than Marragaay's and he seems to be without fear.  I just hope he doesn't go TOO soon and end up in the car park (which wouldn't be the first time).   Last year they all flew off beautifully, but sometimes they just glide to the ground.   Hard to pick.
Here Xavier, true to form, has brought in a starling, which is grabbed by big sister, Marragaay, with Bali rather forlornly reaching out to Dad as he scampers past.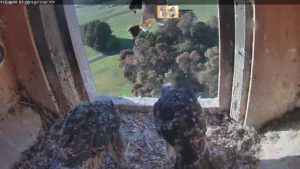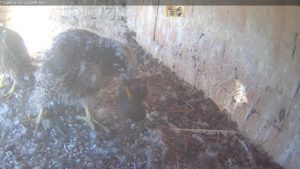 VIDEO:  20171108 star bfast nest
VIDEO 20171108 star bfast ledge
I'm two days behind in my breeding behaviour recording and our nest cam is only storing three-four days at present, so the pressure is on, and I'm trying desperately to catch up.    But I have other deadlines too, so it all seems to be heading to a cliff at present!