Chicks are almost in juvenile plumage…just a few days now and they will have shed most of their white fluff.  They have spending much of their time flapping around the box until they collapsed in slumped huddle.
I have to feel a bit sorry about the rosella population, which is getting a bit hammered, particularly by Diamond.  Fortunately, eastern rosellas, her favoured prey, are very common in this university farm and around and are considered indicators of degraded woodland, which is a good description of the remnant woodland around here.   Crimson rosellas are occasionally taken, too, but are found less often in the really open country.
Here Xavier brings in an eastern rosella, then drops in when Diamond arrives, and then she leaves with the prey (bringing it back after a few minutes munchies out of reach of the chicks) and is chased by X, with quite a dramatic double exit.  This happened yesterday afternoon.
VIDEO 20171103 black lump nest X and Di with chicks LEDGE
VIDEO 20171103 black lump nest X and Di with chicks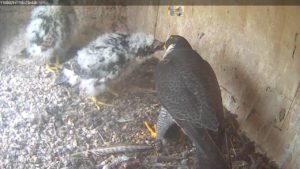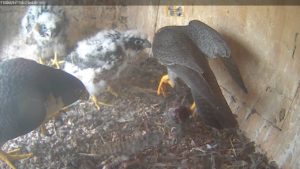 This morning, a crimon rosella (suspected) is brought in by Diamond, but Bali misses out after Marragaay grabs the prize.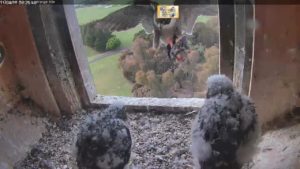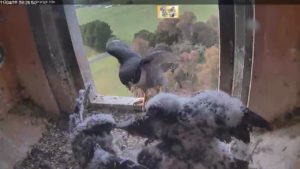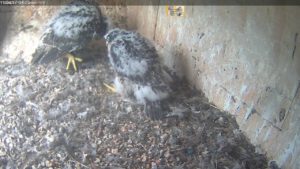 VIDEO  20171104 suspect CR family interaction LEDGE
Diamond comes back later and gives him a consolation prize.
I have a full day Central West Environment meeting tomorrow in Lithgow, so will leave you in peace and hope that the webcams hold up.  But just on more piccie for you of Xavier ready to make his exit: