Well the ledge anyway.   Here here she has a major flap, then joins little brother on the ledge for the first time.  As Sue has pointed out, Bali has been much more adventurous: flapping on the ledge, even doing pirouettes.   I'm sure he'll go first, possibly this weekend.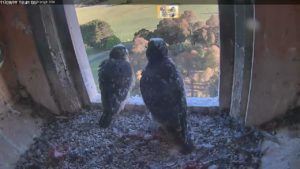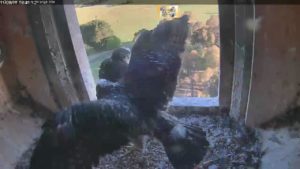 VIDEO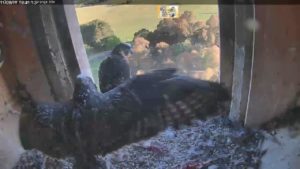 20171109 Marragaay joins Bali on ledge after major flap
I still can't get over the size difference between these two.  Bali is really small, but getting a bit to eat – he even grabbed a prey before Marragaay (a scrap, rather than a whole bird, admittedly).    Prey has included two rock pigeons (both banded) plus one native crested pigeon (I think), starlings (one still alive that got chased around the box..not sure if this was a test for the youngsters or not, but they didn't take the bait.  Xavier grabbed it and took off with it again)  and a few I can't work out, but medium sized passerines, possibly wattlebird.  I do wish they would leave the heads on!