One of our chicks, Bali, took his first steps to the ledge.   I'm assuming Bali is a male and Marragaay a female, due to size difference, which, at this age, should be starting to be marked, although it is odd that he was such a slow developer as males usually develop more quickly as females (and often fledge first, sometimes when I don't think they are ready…but what do I know!).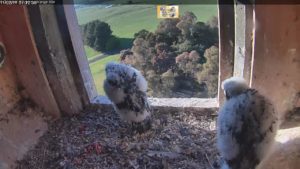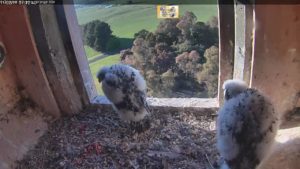 VIDEO  20171102 1st trip to ledge
The other behaviour that is starting to occur more often now is the tugging of food, both between the chicks and between adult and chick.   As well as the tugging of Mum's tail!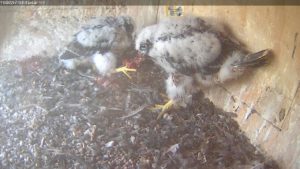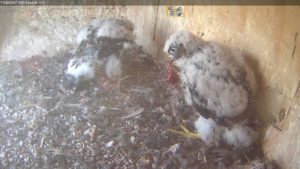 Marragaay won this round, but Bali got fed shortly after by Diamond.  If there is insufficient prey, then the adults ensure that at least one chick will survive by focusing on the larger, more aggressive chick, but there should be plenty of prey around, and the juvenile starlings should start appearing in the diet soon (at least in Xavier's clutch, Diamond is showing her usual disdain for these skinny pests).   Bali is definitely getting less than Marragaay, but he is quiet feisty and when there is a larger prey like a pigeon, he always gets plenty, so I think he'll be okay.
And here it the tussle between chick and adults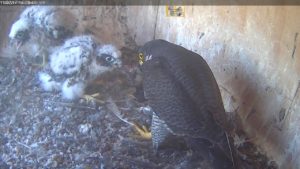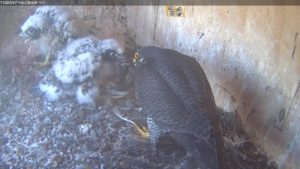 VIDEO: 20171102 star tugged
Prey has included the usual starlings,pigeons, several eastern rosellas and other parrots, possible a superb parrot (threatened species) and many others that I haven't been able to identify.  It certainly helps when the prey comes in intact, rather than headless, tailless, wingless and plucked!