Xavier brought in a starling this morning and just dropped it at the chicks' feet.   Without much hesitation, the chicks grabbed it and split it (hard to see) and started eating. Then Marragaay took a few steps with his treasure away from Bali.
20171025 Marragaay with his prize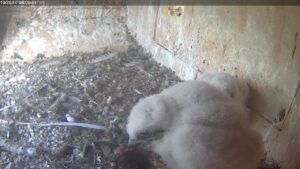 I have to go to Sydney tomorrow, but will try and do catch up in the morning before I go and will dropbox some videos for Scott to load to youtube before I go.     We've been talking about the streaming problems and will start looking for sponsor so we can upgrade.  I'm giving a talk to Rotary in a couple of weeks and they have always been supportive, so fingers crossed.