Although Marragaay is getting really well fed, Bali is not doing too badly – and at least he's not eating himself sick.   Marragaay reminds me of Mr. Creosote in Monty Python's The Meaning of Life (this might not mean much to the Americans, apologies) and I hope he doesn't blow himself up.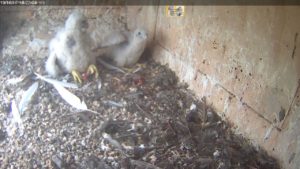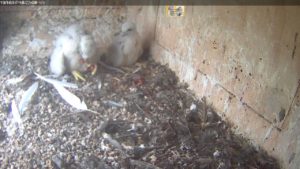 VIDEO  20171019 Mr Creosote
After a few tentative steps a few days ago, the chicks (especially Bali – Marragaay can only roll about!) are starting to get a bit more adventurous, even creeping close to the ledge and Bali has been doing some wing-flapping.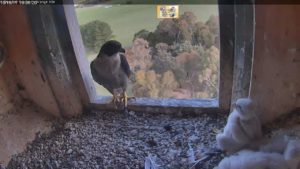 Neither Diamond nor Xavier is spending much time keeping the chicks warm now that the weather has improved, although there is quite a bit of rain forecast for today and tomorrow, which might change things and make it harder to get prey.
I've noticed that Diamond hardly ever brings in starlings, although she will feed them to the chicks if there's nothing better.  Her preferences go to rosellas, galahs and other larger birds – she caught a red wattlebird yesterday (a large honeyeater).  The prey is getting easier to identify as there is less preparation now, but I'm still not sure what the large white bird was (feathers seen in top photos).   Possibly a sulphur-creasted cockatoo, which would be appropriate revenge for the orgies that the cockies sometimes hold in the box during winter, even chasing the male out of the box!
I'm tied up with full-day meetings, landcare etc. over the next three days and it will be difficult to keep you updated (and I'll get horribly behind again).   And a lot changes in three days.  Unfortunately, I don't have access to the software at home – it's very restricted because of the tie-in with the university location and security situation.     Many thanks to other Scylla for helping out in this respect.   It's very much appreciated.    Let's hope the streaming cams don't keep blacking out. so she can use her screen-capture software.     I assume that's similar to what Arjen was using last year.