We had a good (and much-needed) downpour last night, which gradually petered out during the day and the sky was almost pink again by the time I got to work this evening.
The consequence of this was a rather hungry morning, with no prey being brought in until nearly noon, when a very wet Diamond arrived with a welcome pigeon – introduced species based on the white feathers and pink legs and huge size.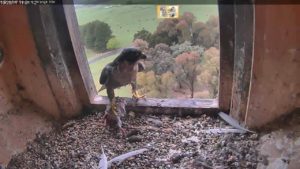 During the afternoon, more pigeons were brought in (or was it the same pigeon several times – I can't be sure!).  At one time, Xavier brought in what I swear must have been Diamond's pigeon (or what remained of it).  I don't Xavier caught anything all day….. Eventually both chicks became extremely full and couldn't cram any more in, so the parents got a feed as well.
Chicks are getting some juvenile plumage coming through and are a little more independent, although still sprawl together when sleeping.   And Marragaay has started feeding him/her self from the scraps in the box.  I always think of this as a bit of a milestone and start recording all times when they feed themselves, as opposed to just being fed.
The forecast promises to be fine for our landcare event this weekend, so I'll probably not check in again until Monday.    Have a lovely weekend.