Peace reigns in our falcon family.   Apologies to those fretting about our chicks – it was just overzealous feeding and a chuck-up, after all.   No nastiness at all (except chucking over your sibling's back, which is a bit disgusting…)
Here we have a scene where Xavier had brought in a small prey after long drought and started feeding chicks.  Then Diamond trumped him with (I think) an eastern rosella.  She took over the feeding, so X started eating his remnants.  Then he thought he should help out, but Di nicked his prey and thwarted him!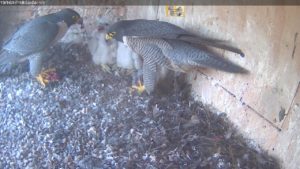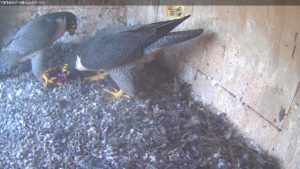 VIDEO   20171016 family supper
This happened last night.   I'm not making that mistake again (ie jumping ahead with no history or context)!   But I should catch up tomorrow.    Have to leave…Amadeus beckons.