I hope this doesn't keep up.   The older chick Marragaay had real go at the younger one, Bali, with considerable blood loss.    I was just thinking how well they were doing.   I was trying to get up to date, but was only up to noon today, so I decided to fast forward so I could give you an update, when I saw this.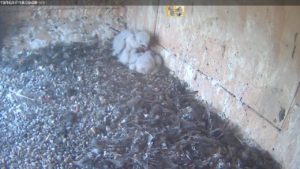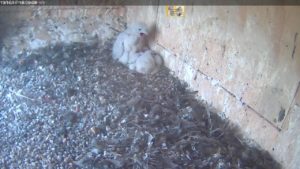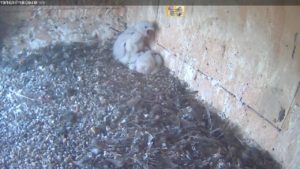 VIDEO   20171015 sibling agression
They are now cuddle up in the corner as if nothing has happened, but Bali is very quiet (but moving).    Mum is sitting on the ledge.   I haven't observed this behaviour before in nine years, but it may not be unknown.  Bickering yes, but not drawing blood.   I'll check and see how much much prey was brought in this afternoon tomorrow, but I've had it tonight.
The only other thing of note to happen is that it's possible that a couple of bats were brought in as prey very early in the morning.  I can't be sure as the images are not great.