Such gorgeous beasties!   Actually, this is  not their most endearing phase.   But they are both putting on weight and looking healthy.   Here they are with Diamond (well, her tail) just after a feed.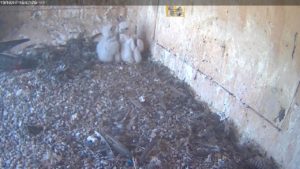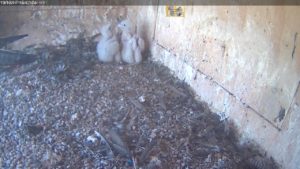 VIDEO:   20171013 postfeed chat short
I've noticed that absences from the nest by adults have got longer.  We did have some rain, which might have meant longer hunting hours, although food still came in regularly.   Some starling and also some parrots.    The nights were starting to get warmer, although last night went down to 3 degrees, which is a bit chilly for the wee ones.
Have you found the website in Melbourne yet?  it's called http://www.367collinsfalcons.com.au/ and features a pair of peregrines nesting right in the heart of the city.  Their chicks are a bit advanced on ours.    I'll be looking into what type of research they are doing and seeing if there are opportunities for collaboration.