That Xavier might be getting better at feeding, but he needs to watch his feet!  He also needs to prepare the prey better as this was a very rough pluck, which to his credit, he realised, and hence the hasty exit.   Macropus = large feet, which is the name of the primary Australian subspecies.
Plenty of food coming in, sometimes rejected (does Diamond prefer parrots to starling…?  .mm, not sure, she certainly takes anything if hungry).   Hard to keep track of whether the food is fresh or stashed – important as I don't want to count double prey.   Stash in previous years has normally been in the box, but rarely this year.
I have to leave for Sydney in three hours, so unless something dramatic happens (eg resurrection), I'll sign off for a  few days.   I don't have the recording software when I'm away for the office, but might be able to answer queries.   I can also put up new thread if this one gets too long.    There is at least wifi at the venue at Uni Sydney.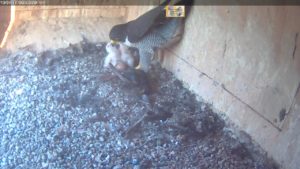 VIDEO  20171006 Clumsy Xav short