Just got to work.  Thanks for all the alerts.   I tried to keep a half an eye out at home while doing chores, but kept getting distracted.
At 1411.37 pm there was a change-over (with prey) and an obvious crack in the egg.   And about time, too.
At 1610-11 I got some shots of this obvious pip-hole in the egg, with what looks like a bit of the chick inside.
VIDEO  20171001 peep hole larger Diamond beaks it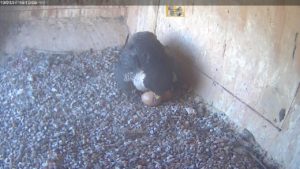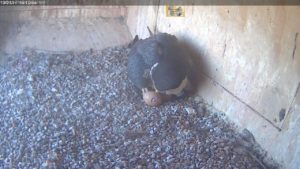 Once chick emerges, I'll put up a video and start a new thread with it.   Fingers crossed, all goods smoothly.