Still no sign of chicks, but I have to go home now,  so I guess you'll beat me to it as I probably won't be in work until Sunday or Monday (the uni is closed Monday for public holiday, but I'll probably be around). I have to organise a landcare event tomorrow, Saturday, which means clearing out my garage for starters.  (yuk).    I can post messages from home, but can't add photos or videos.
Here is some interaction over a meagre prey offering.  Male (Xavier) is on your right.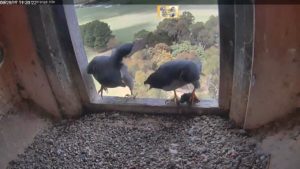 So, anyway here is new thread, to avoid getting too cluttered.    Fingers crossed.   She's fast asleep as I'm writing.
Have a lovely weekend.