In the lead up to the hatching, we had an interesting visit from another peregrine this morning.  Interesting to watch both Xavier and Diamond's reaction: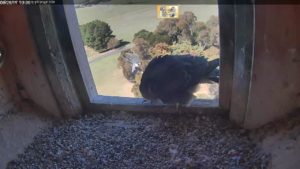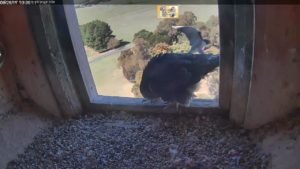 VIDEOS 20170926 PF flypast ledge
20170926 PF flypast X reaction
There has been very little prey brought in – just a starling top half two days ago.  I still haven't found the stash, but I've asked some workers to keep an eye out for me as they are working in the gardens where the birds often roost.  I think it might be in the very far trees, however as I've seen Diamond sail right over the close trees.
Xavier has been keeping up his incubation duties – sometimes several hours at a time – quite different from Bula or Beau.  Here he is perhaps startled by something and makes a rather clumsy exit.   Did he hear a peep?.   Sorry, video not behaving itself.
Incidentally, I'll have to ask Scott about sound.  I have it on the Milestone recording software, which I can watch live, so I don't know why it's not coming through on the live streaming.