All is well chez Diamond and Xavier.  He has been bringing in quite a bit of prey, mostly small unidentifiable lumps, but the occasional starling head and one whole bird.  He is also gradually becoming less reluctant to hand over his catch!
You may have noticed an improvement in the images, particularly the ledge camera, which was somewhat disgusting.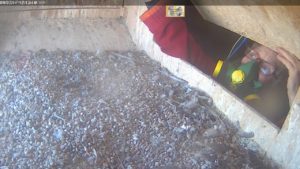 I didn't disturb the scrapes as I am recording how much time is spent on preparation and if I interfere, I'll bias the results.  The birds are spending time in both scrapes, although slightly favouring the far scrape…..or is that just wishful thinking as it will be more visible!
And we've finally had a decent drop of rain.  This will help the bird breeding in the area and hopefully provide enough starling offspring to feed our eventual chicks.
Cheers  Cilla