Xavier is finally giving up his prey, although not without  a bit of struggle.
VIDEO  tug of war ledge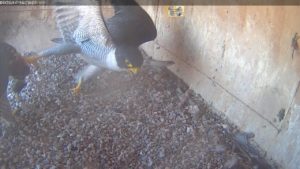 In the second image, Xavier has his back to the ledge when Diamond arrives, and she coolly ducks between his legs to retrieve her prize.
Not that the prey is much to shout about, mostly starling heads and other unidentified slim pickings.  He'll have to sharpen up when Diamond is completely reliant on his hunting skills for food.  We know he can do it as she and her three chicks survived last year on his abilities.
Some of you may have noticed that I opened the box to retrieve some feathers that were triggering the recording software.  Both birds were not at all amused and kept trying to scare me off my ladder.  Sadly for them,  I'll have to return early next week to try and clean the lenses better.
Enjoy your weekend.  Cilla