No sign of juveniles, but regular occupation by both male Xavier and female  Diamond, with considerable courtship behaviour.   One prey was brought into the box by Diamond, but I couldn't identify it, just a small grey bundle.   There were a couple of flypasts, which I hoped might turn out to be juveniles, but I think it was a male, probably Xavier.
The courtship behaviour varies considerably.  In the one shown below (18/2) the birds couldn't be further away from each other, both bent low and circling, almost dancing.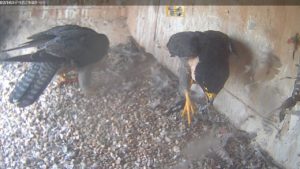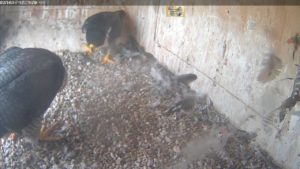 VIDEO:  20170218 X and D circling
At other times, they just stand and stare at each other, sometime for several minutes.
Diamond has been using the box during the day quite a lot (but less so at night).   Here she was making some desultory effort at scrape preparation, but was clearly a bit bored with the whole affair.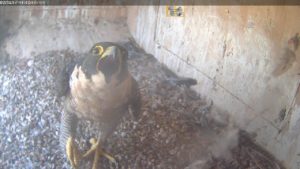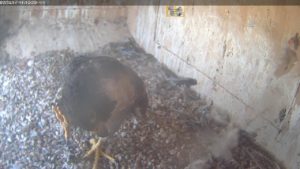 Sorry, video was too big.
We do have a drop box so that I can send videos to Scott and he can turn them into youtubes, but it needs cleaning out!  Next job on the list.
Off to Sydney today, so have a great weekend everyone.
Cilla