One of the juveniles (probably ours judging by Xavier's behaviour, which was not aggressive), tried to land in the box this morning in the middle of a strong rainstorm (18 ml in about an hour).  I'm going to hazard a guess and say that it is one of the females, Mell or Rubi, by the size of the wings, compared to Diamond in roughly similar position, but when I get time I'll try and find a closer matched photo of an adult.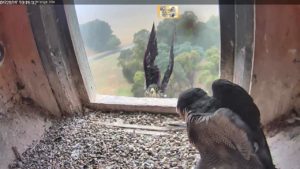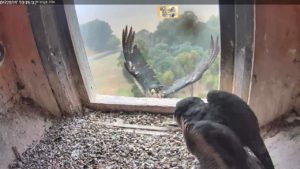 20170120 juv visit in rainstorm   (there is longer version from Arjen on the previous thread).
Hopefully the youngster will stick around for a few days so I can get a better picture.
I was a bit worried about Xavier yesterday as I saw him sitting on the top of the tower, looking VERY dishevelled, feathers sticking out everywhere, but he seems to be okay today.   Perhaps a bad moult-day.  Didn't have my camera with me.  Apologies.
Thanks so much to Arjen for posting all those videos while I was away.  Do you never sleep?
The data entry is going ahead in leaps and bounds.  Thanks so much to Christine and Sue for their help.
Now I have nearly two weeks of data to catch up on….