It seems our pair are really cementing their bond.  I've noticed that Diamond has been paying a bit more attention and is bowing really low to Xavier (who is always far more attentive).  And their courtship displays have been more frequent (whereas the scrape preparation has dropped off, although not entirely).
Here Xavier arrives just on sunset.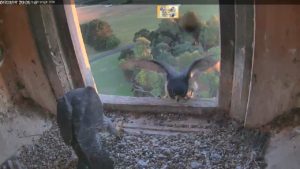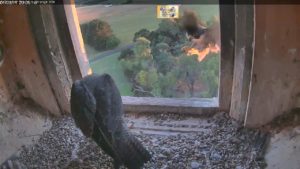 And here is Diamond crouching really low (or is the unusual camera angle).   And a little movie.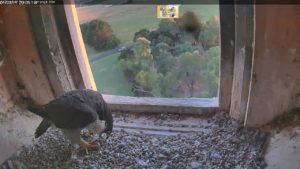 MF Interaction Diamond low pose
Despite much searching, no sightings of the juveniles.   However, whilst Xavier has spent much of the time in the box, Diamond has been out and about most of the day.  Perhaps she has been doing most of the training.  Who knows.  A bit frustrating!
Anyway, it's January and I am heading off up to Bellingen (north coast hinterland, NSW) tomorrow, coming back on 15th.   5 days of guitar playing, bird watching in the rainforest and swimming in the Bellingen River and perhaps in the ocean, seems a good idea to me.
I'll have access to this website, but not to my software, so hopefully Scott and Arjen will be around…and I'll catch up as soon as I can when I get back.
Thanks so much for all your support and comments this breeding season.  I'll catch you later in the month.
Cilla