Well, he's still there and being fed (galah, probable starling).  I thought he was going to head off again this afternoon; lots of dancing on the ledge, but not yet.  He really should be out with his sisters chasing and building hunting skills and I'm wondering if his first efforts have strained his muscles a bit, so need rest.   Not that the sisters are doing that much, but they are at least flying from tree to tree.
Here he is chasing off not only Diamond, who pecked at the galah remains, but Xavier who came for a very quick visit and showed us his acrobatic skills.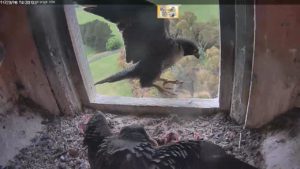 20161123-grey-pass-long-legs-vim-sees-off-d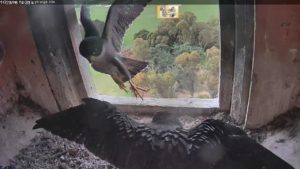 I haven't looked for the ladies today yet, but there was much very unladylike screeching coming from the park as I came to work.  I'll go out shortly, and will try and avoid possible thunderstorm.  Certainly cooler now.
I have a field trip tomorrow (Thursday) morning and planting trees Friday morning, but will check on the youngsters in late afternoon.