Juvenile (1 year old) who presented as possible suitor for Diamond (rejected)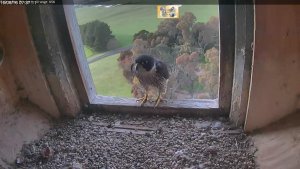 Vim prior to his fledge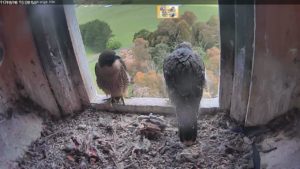 Bird in the box now (Vim, in my opinion)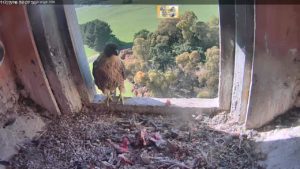 Going by chest pattern, colour (quite markedly darker/more orange), size and behaviour (his and parents'), I'm sure (as one can be) that this is Vim.   He's been in there all day and most of yesterday and seems a bit tired and has been lying down much of today.  He was choking a bit this morning, but seems to have overcome that.
It's very warm today, so his laziness is perhaps understandable.   Cool change is on the way.   He's had two prey parts (one galah, one unsure) since arrival, but nothing since 8 this morning, perhaps a deliberate ploy to get him out again.  It always takes them a while to 'get going', but it's unusual to have a youngster in the box so soon after fledging, and for this long.
Now for the girls.   I had a walk during the late morning and heard a chick calling briefly high in the trees, but couldn't find her for love or money.   Mum was, as usual, very protective of the area.  No sign of female #2.
Couldn't find any prey remains, but most of the park has 1.5 m grass to wade and peer through, which makes it a challenge.     I'm going out again shortly, now that it's cooling off a bit and hope to see more action.   If I don't find them tomorrow, I might rally the troops for a more thorough search later in the week or early next.