The box has been much busier than I expected over the last few days.  Xavier has been darting in and out looking for something….chicks? ….food?  Doomed for disappointment until today and even then he was in for a surprise….no easy pickings.   On Friday, he made 4 visits in an hour and he was in the box much of Saturday and Sunday.
Diamond was on the water tower when we came out on Saturday, but hasn't been in the box that much.  She did bring in some prey (tiny unidentifiable morsel) on Friday and had a pas de deux with Xavier.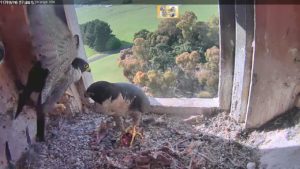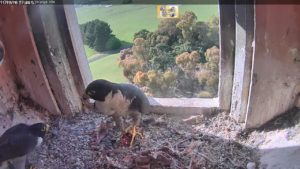 But the big surprise was the arrival of Vim in the box this morning, arriving just in time for a nice fat galah for breakfast, brought by Diamond.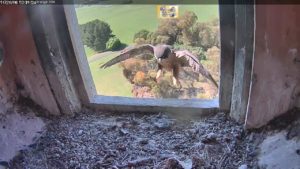 He has been there all day and is on the ledge as I write having a snooze; hope he doesn't fall backwards as I'm not confident of his night flying skills yet.   Diamond is not there as yet, but spent the night there last night, but not the night before.  Odd to see an empty box at night…
About an hour ago, Xavier arrived and tried to nick Vim's left-overs and Vim defended his prize with some gusto.    Must clean those cameras soon!  Feeeelthy.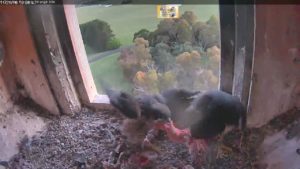 2016112119-vim-protects-his-supper
Haven't had the chance to do anything more than a cursory search today, so haven't seen the two girls, but will have some time tomorrow late afternoon/evening, so will keep you informed.   I did notice that Mell was no longer in the roost tree.