Horrible windy day in Orange, with rain threatening.  I agree that this is not the best exit time, and the chicks seem to sense this.  Tomorrow showers are forecast, but the rest of the week looks reasonably fine.
Parents have been largely absent, with little feeding happening, just a drop-off service.   If they turn up empty handed, they get nagged.   Here one of the girls (perhaps the slightly larger, bolder female, Rubi) is giving Diamond a hard time.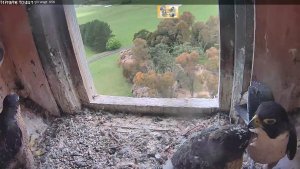 Food provision has gone down a bit…a normal ploy to encourage some independence in the youngsters.   But there was a large white bird prey with pink feet that puzzled me for a bit, but I think it was a white pigeon (hopefully not someone's loved racing bird).  Other bird prey included starling, an eastern rosella and a green bird, probably a young crimson rosella.
All birds have been very busy flapping and braving the ledge, but still like to cuddle up for a snooze together, especially after a good feed.
We did have a trip up Mount Canobolas today, but the weather was very poor, so didn't venture to the peregrine nest, but did see a pair of wedgetail eagles, which made up for it.