It's been unseasonably cold and wet today, but brightening this afternoon.   Prey included a parrot, a galah and a starling but an unidentified blob that the youngsters were clearly not impressed with (spoilt!).
I had a look at the 'incident' this morning, but it didn't seem to be much more than a rather over-the-top 'nag' after Diamond arrived empty-handed (not surprisingly, considering the weather at the time) and perhaps she put him in his place.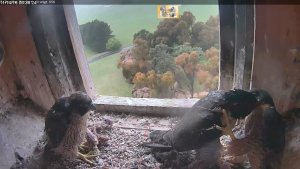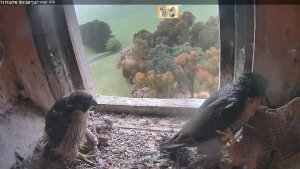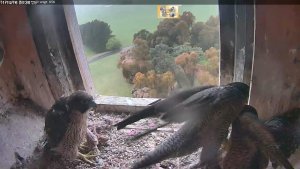 20161114-vim-and-diamond-scrap
Also intriguing was the flypast by Xavier.  I may have missed some of these as they were quite quick, but here is one this afternoon where X does appear to be trying to persuade the youngsters to leave.  It's interesting as I don't remember any of our adults, male or female, exhibiting this behaviour before.  Comments?
20161114-xavier-entices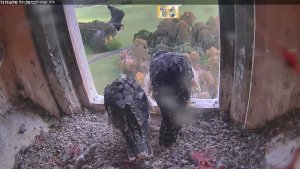 Off to choir.  Talk to you tomorrow.