Another large, white bird prey was brought in this afternoon.   I couldn't see the legs, so my guess of sulphur-crested cockatoo remains just that.  I'll have another look when I get time.   The youngsters seem to be well fed.  A young starling (I think) was offered by Diamond this morning and was taken by one of the females, whilst Vim and other sister stayed huddled at the back.   If they had been really hungry, surely there would have been a bit of a tussle.
Vim always seems to miss out, but I've noticed that he usually gets a reasonable feed in the end.   A large prey, like a galah, seems to be enough for all three eyasses.
I think there is a good chance at least one bird, probably Vim, will be out of the box by Monday-Wednesday, followed by the sisters, if last year's fledgling was anything to go by.  Actually he nearly gets the push this evening by his loving siblings.  Last year, one of the females was really late to go (44 days approximately).  And all flew really strongly, no gliding to the ground like previous years.   Claws crossed!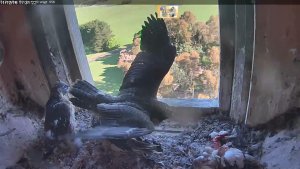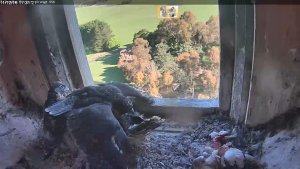 Enjoy your weekend.  We had a by-election today.  I'm not THAT excited as this is a rural area, safe conservative seat and all that, but you never know what can happen, can you?