Prey items today have included the usual galahs, starlings and a rosella (probably crimson).  Very few passerines recently, apart from starlings.   Passerines are usually too small to bother with, but starling juveniles are just so numerous (and unwary) that it's an easy snack.
These sisters!  Brawling and carrying on, while Vim calmly gets out of their way and picks up the pieces.  The pattern seems to be that (with a large prey) one sister grabs the prey, has the first feed, then the second sister tackles the first and, if successful, has the second go at the prey, and leaves the remains for Vim.   With a small prey, the male is usually missing out, but not always, thanks goodness.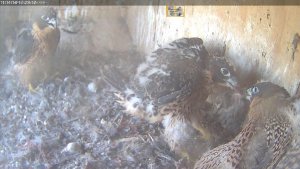 20161111-star-tea-unseemly-foodfight
There are more 'tender' moments too, when the youngsters peck at each other in a gentler fashion.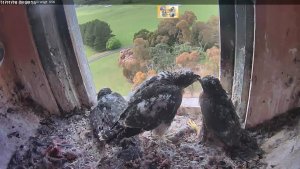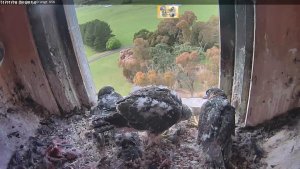 20161110-vim-and-sis
There was a nice short of two of the birds waiting for their dinner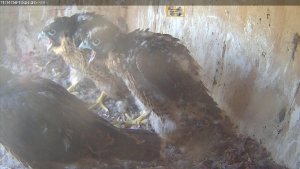 And finally a short of Vim, Rubi and Mell lined up near the ledge for a great comparison of size.  I've been waiting for so long to get this shot!
Have a great weekend.  I have a field trip Sunday and am hoping to see another peregrine nest at Mount Canobolas, our local 'mountain' (1400 m), where there is usually near a nest close to a waterfall – reached by a walking track, about 2 hours.