I've been re-reading about sexing Aussie peregrines.  A methodology has been developed at earlier stage than normal so that a safer banding can be undertaken (less likely to jump).  Sexes cannot be determined when the wing is less than 9 cm (about 15 days after hatching), but by taking measurements of body mass, tarsus lenth, head-bill length and tip-cere length (NB not wing lenghth, sex can be determined quite accurately after that (Hurley et al 2007, A morphological model for sexing nestling peregrine falcons….verified through genetic analysis).  Interesting reading.
I thought I'd play around a bit with the video formats (my patient partner is getting very good at cooking as I'm home so late most days!).
Two of them (RLE and Microsoft YUV) didn't seem to work at all and none seem to provide audio (although they are supposed to and I get it when I'm using the recording software), but I got an eight second clip down from 262 MB (Intel) (yikes) to 19 MB using Microsoft Video 1 (.avi) and 21,000 kb uisng MKVI.   I'll attach both if I can and you can see which you prefer.    I seem to have to click on the screen to get the MKVI to appear.  As you can probably tell, I haven't tried to do videos before (Scott's preserve).   I still won't be able to keep up with you lot, however as I can only do the work for a couple of hours a day, generally all in one sitting.
20161029-x-leapfrogs-chicks-ms-video-1-format20161029-x-leapfrogs-chicks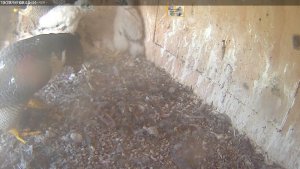 stills of a leaping Xavier (hard to see, sorry)