Well I'm not sure he will be the 'saviour', yet, but things are looking a lot more promising and, you are right, as usual, he has brought in his first prey (not sure what this is, possibly a tree-creeper by the colouring, but  a smallish passerine anyway).
The juvenile male we saw before might well be Tardy, and, if so, I'm rather glad he was not accepted as a suitor!  If this male (Xavier) is an offspring of Swift, then there is no relationship.
Earlier Diamond also brought in some prey after a short absence (14 minutes) which makes me suspect the prey has either come from Xavier, or was possibly from a stash.  She also brought in a scrap of prey at 0943 after a very short absence of 5.5 minutes and this was clearly not her kill.  So I think he is helping from the sidelines at least.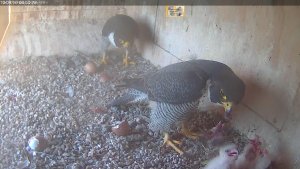 I've tried uploading video, but even a three second video is too large (over 50 MB).   I'll see if there is any way that I can reduce the resolution through changing the format.
Thanks for all your comments and pictures.   Even though they can't see or hear us, I feel that perhaps they know we are cheering them on, somehow (daft, I know).  In respect of the 'what's in it for him' – the answer is that good territories are rare, especially ones with such a good nest site, so if she accepts him, he's set for life (less of the peregrinations!).
I have to chair a full day conservation meeting in Wellington, NSW tomorrow, so am unlikely to be in, so will talk to you on Monday afternoon.