My, this is a very interesting journey and still all three chicks are alive and well.    Early this morning another peregrine few past.  I couldn't be sure which one this was.   I also walked in the trees this afternoon and heard a falcon calling, but couldn't find the bird to identify the gender.
Diamond made an excellent kill this morning – apparently, a sulphur-crested cockatoo (possibly a corella), but a large prey item.  I see this as revenge for all those parties (almost orgies) that the cockies have held in the box over the years:).   She had to leave the chicks for nearly three hours, but it is much warmer today fortunately.
At noon she backed into the box calling as if she was expecting a visitor, but he didn't materialise.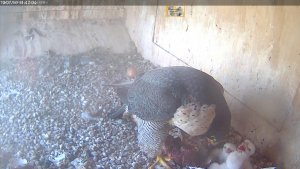 Then after a quiet afternoon, another male came into the box.  This was an adult, but I think probably younger than Bula.  Diamond tolerated his presence (I suspect they have already met outside the box), even when he cheekily took a morsel of prey before leaving.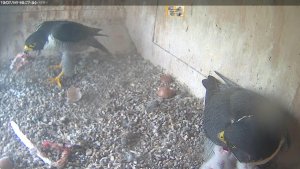 She even left him alone with the chicks for a short time, although he didn't approach them.   Then there was some fairly serious courtship behaviour, so this does look really hopeful (providing he minds his manners and brings food, rather than expecting hand-outs!).   Look at the chicks ….don't they look hopeful, too!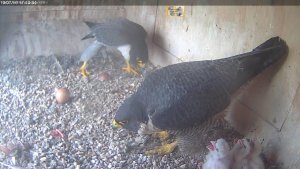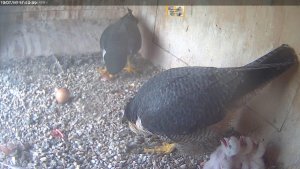 Poor Diamond is suffering a succession of suitors that haven't quite figured out how to make themselves really welcome as long term partners!  But isn't it interesting how many other peregrines are around.  You would never know it.  But he'll get the message, I think.