Yes, you are right.  The third egg hatched at about 0306 h last night, so Diamond now has three mouths to feed, which she is still doing, amazingly.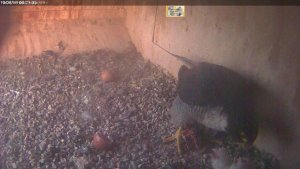 At a quarter to six this evening, she brought in some prey, already prepared.   I suspect she hunted for this last prey herself as she was away over an hour, but something odd happened at lunch time today, when Diamond chased our new male  out and then came back with a scrap of prey just three and a half minutes later.  I can't work this out as it would have taken much more time than that to hunt, kill, pluck and mostly eat this prey.   Perhaps she is so desperate that she's taken road kill.  Or perhaps he had something in a cache and gave it to her (that's what I'm hoping).
The other male is quite young; I think only 1 year old as he still has juvenile plumage.  (I'm toying with Xavier, not because it means anything, but because it sounds like Saviour in English, but is less pompous, but he'll need to prove himself first!).  He doesn't seem to realise that she wants him to bring prey to the box….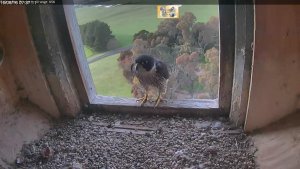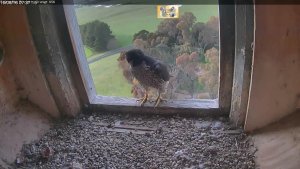 The reaction between Diamond and 'himself' has been interesting.  She has basically tolerated him unless he came into the box to start courtship behaviour, and then she became aggressive.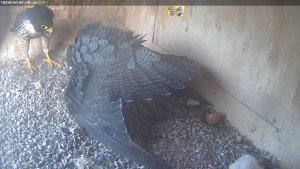 Don't come near my babies!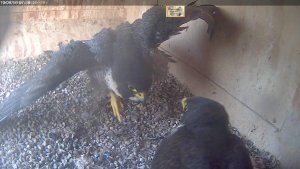 All three chicks were still alive at time of writing and just being fed.    And our new young chap hasn't been seen since about half-past one.
Weather forecast is good for tomorrow and the weekend.  I have landcare/conservation commitments tomorrow morning, Saturday morning and all day Sunday, so flat chat, but will do my best to keep you up-to-date, although you seem to be managing quite well without us!