I got back last night after amazing trip when I saw more birds than I expected, including six raptor species.
Anyway, I now have 3 weeks of data to go through and that will take a while, but I'm pleased to report that on 15th December, one of the juveniles made her (based on size) first visit to the box.  Diamond was already up there, but took off (perhaps to make way) as the juvenile approached.  She stayed for about 10 minutes, had a good sticky beak around her birthplace, then took off.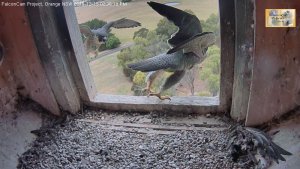 I was expecting this to happen at some time as Snow (female from 2012, in fact our last fledgling) spent a lot of time in the box with Swift (our previous adult female) up until mid-January.
I'll send the video to Scott for upload if he's around.