A late afternoon stroll in the park today revealed no less than five peregrines within easy reach of each other.  The photos are not much chop, but I'm pretty sure Tardy is the one in the tree fork bottom left.   One sister is centre top and the other is bottom right, partly hidden.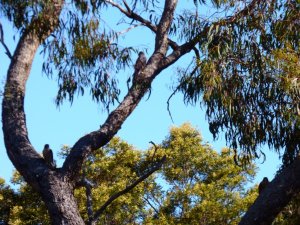 I also took one a bit closer of Tardy and one of the sisters, which shows off the size difference a bit better.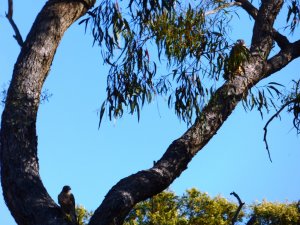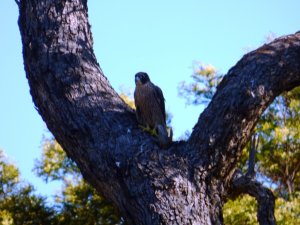 And the parents were not far away, keeping a watchful eye (and noisy scold).  All three youngsters took to the wing for brief flights when I was photographing them, but they (the parents) didn't budge.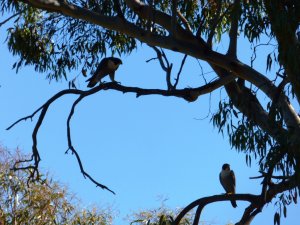 I spent today going through the tapes since the last fledge and both parents have been visiting the box regularly, cleaning up some of the debris (Diamond took the galah head…) with Diamond over-nighting most nights.  She even brought in some prey recently (pigeon), which seems a bit odd, but perhaps they will visit the box again fairly soon.   Previous fledgelings have used the box once they start hunting.
So I guess we are all feeling a lot better now!