Here are some more hand-picked video clips for our peregrine falcon eyases. They're now about 34-35 days old and becoming extremely restless, all the time wanting to test out their strengthening wings and legs. Mischief comes in the form of anything that looks like it can be picked up and torn apart, and indeed there are some morsels hidden under the piles of loose feathers, but it doesn't take long to clear some space. One flap and the world turns in to a feather/snow dome!
Early morning exercises for the three young chicks.
The chicks testing their wings and legs.
Bordeom (and hair-raising antics) beginning to show in the "Concrete Hilton".
Here's how peregrine falcon chicks chill out!
Mischievous chicks attacking anything not nailed down.
Peregrine falcon chicks at play.
It's only 4-6 days now (and hopefully no earlier!) before these three birds attempt to make their leap of faith, from 50m up in the air, with a tile roof and a grassy lawn below them. We're on "fledge-watch" from now on as they're certainly testing the boundaries already in spending time flapping and walking along the outside of the ledge. When they leave we'll decide on an individual basis whether they'll need a helping hand. Our own "constitution" relates that there is no intervention, but if they end up in a situation where humans may become involved then we'll probably step in.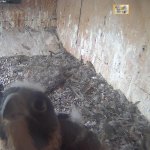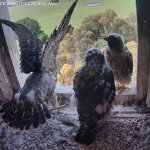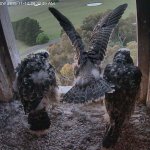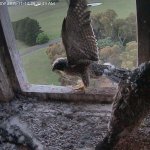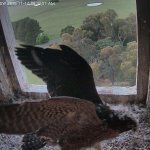 The future
Thankyou to everyone who's been commenting and emailing in with ideas and suggestions for the Project's future. We have a lot to discuss now, and with the quiet season just a month or two away there's plenty of work and research to be put in now. Amongst the topics to discuss are the likes of a banding program (politics involved here), a new external ledge design, camera angles, streaming software upgrades, local assistance to the current Project team, and generally where the Project goes from here. We're mostly restricted by current voluntary funding, along with university and campus rules & regulations, and local animal ethics issues to get past, but now that we're established with a set of fantastic hardware and software we can look positively to a future with Bula and Diamond and their offspring.