Telling juvenile birds apart at this age has always been a bit tricky because, although females are eventually much larger than males, there is little to split them now because the males actually develop faster than the females.
And you need to remember that the three birds are all slightly different ages, compounding the complexity.
Once the bird's wing length is > 9 cm, however, one can determine sex with reasonable certainty, which is useful as it is now when the birds are usually banded (about 4 weeks).  So, according to Victor Hurley et al's paper in 2007, there should now be significant differences between the female and male in relation to tarsus length, head-bill length, tip-cere lenth and body mass.   Unfortunately, one needs to have the bird in the hand to get these measurements…
Having said that, and based on estimate of body mass, I think Clare is right when she says there are two females and one male.  Certainly there is one bird quite a bit smaller and he is well into juvenile plumage, so not 'immature' or younger.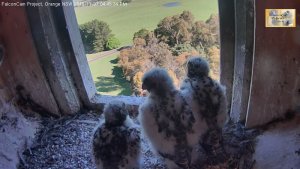 I've noticed that usually only bird feeds at a time and there is little aggression between the chicks, apart from the occasional (and increasing) tugs of war, and sleight of hand nicking when the other is distracted, and they do all still seem to be getting enough to eat.   There are young starlings a plenty, plus the odd racing pigeon coming in…and well appreciated by the young chicks.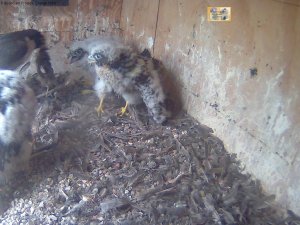 I'll be away from tomorrow until Thursday, but have sent an alert around to staff at what to do if they find a chick out of the nest.   They certainly shouldn't be attempting anything till about 18th November, but the best laid plans and all that.