Bula seems to be getting the hang of things, realising it is his job to hand over the prey items to Diamond and he has been doing that, sometimes up to three times a day (and sometimes having a good chew beforehand, making identification difficult).
When I have been able to discern species, it has been mainly starlings (local pest, so good news), plus at least two red-rumped parrots, a possible pigeon or two and some tiny birds, probably spotted and/or striated pardalotes.  The latter were a bit of a surprise as they are barely a snack.   They flit around the canopies of the tall eucalypts looking for insects on the flowers, so are a bit vulnerable.
I haven't seen any more copulation, but if the ones observed were successful, we should have had eggs by yesterday.   I guess we just have to be patient;  all the signs are good.  Plenty of scraping and perhaps even some 'straining'.  Diamond was a bit impatient with Bula and even a tad aggressive (see photo) recently.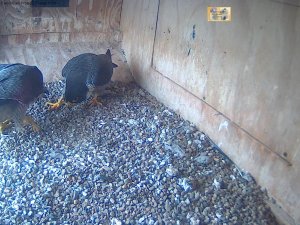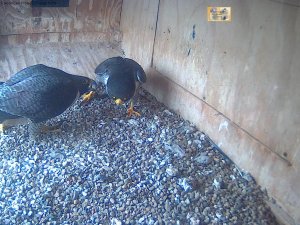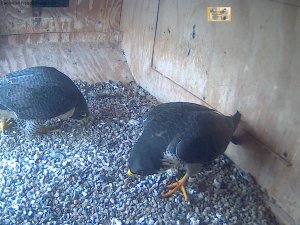 I'm tied up with a field ecology residential for the next three days (including early mornings bird-watching and evening spotlighting), so I am just hoping that, if an egg does arrive, it waits until Friday as I'll be too bushed at night to monitor the webcam!
Thanks to those who are making comments and/or sending emails.  Keep it up.  It's great to know people are interested enough not just to watch, but also provide feedback.
The week after next a tour from the NSW Landcare conference will be travelling to our university to look at the new Aboriginal Nature and Bioscience Park, see the revegetation works on our farm,  as well as visit the Peregrine Project, so Scott and I will be giving a talk and providing scopes and binoculars for close viewing.   I'll let you know how it goes.