Reliable observers around campus have informed me that our couple are now officially 'joined'.  As with Beau and Swift, this occurred right on the top of the water tower (where we don't have a camera, alas), which is interesting as few birds are so obvious in their intimate behaviour!
Diamond has been doing some scraping, sometimes in our 'usual' scrape, but often all over the box, including in some areas out of view of the cameras (oh, no, PLEASE, don't do that to me!).
Bula has been doing the right thing and bringing in lots of choice food items.  Unfortunately, these are usually plucked and half-eaten prior to their arrival in the nestbox in a pretty sorry state, so I haven't got ANY identification (but lots of probably useless photos).
Here is an example: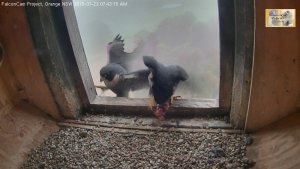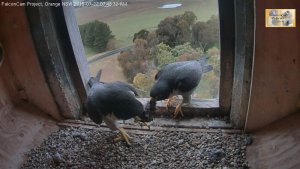 The snow has all gone, except up the mountain and the weather is cool and rainy, with foggy mornings.  Clearly this doesn't hamper their hunting ability.
Expect the next few weeks to be very busy, with lots of food bringing and scraping and straining, before hopefully some nice healthy eggs in August.