Just got back from a few days away at a 'small farm field days' at which I bought a scythe, of all things, to tackle some of my weeds…..
Anyway, Bula is still misbehaving and not always relinquishing his 'prey' (admittedly, just a tiny scrap), although, on  a more positive note, there has been a lot of courtship behaviour and some scrape preparation by Diamond.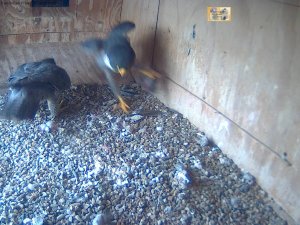 We did think there might have been a night visit by Swift.    I'm not convinced of this as the neck and chest pattern doesn't fit very well and the bird did not sleep in the box, as Swift invariably did.   But I'm keeping an open mind.
And on Sunday Orange experienced quite a dump of snow.  It snowed most of Saturday night and again on Sunday afternoon, but it's all melted now, with a resultant boost to the flows in our local creeks.   Interestingly, on the two worst nights, the box remained empty, so clearly the birds do no appear to need the box for their own comfort or security, just for that of the nest.