The birds are fine, rather quiet, with just one food item being brought in recently and some courtship and scrape preparation behaviour, but nothing particularly noteworthy.
BUT it has been decided to cut down the three large deadish pine trees, which the pair has been using for seven years at least as their favoured roost site, presumably due to their horizontal branches and lack of leaves. This is a worry, particularly when they are teaching the young to fly.   There are other trees in the area, of course, some even taller, but they rarely use them as they are more cluttered.
The area is designated to become an Aboriginal Nature and Bioscience Park, funding permitting, and the trees have been deemed as unsightly and probably dangerous, both of which is true. I am on the steering committee of this park and did try and defend the trees, but realistically retention of the trees in the long term was never going to happen.
The tree-felling will probably happen in the next couple of weeks as the area is due to be subjected to an Aboriginal cultural burn on 11th April and they want to remove them first.
I am curious as to what will happen when these trees are removed, so will probably try to spend an hour or so each day in the field observing the birds (and hoping they don't just disappear permanently).  Some of the local birdos might come and assist.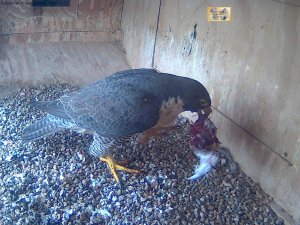 Any clues as to the species of the dinner?  Got us fooled!