As most of our viewers have noticed we've had a really fun run of utterly pointless malware in the back end of the website, which has ultimately affected the website viewing experience for just about everyone. Nothing malicious – just one of those avoidable nuisances. We're now working with a professional security company to avoid the problems of the past and appear to have finally cleared ourselves of the rubbish that some random, under-utilised brains have encumbered us with.
We've requested Google to clear us once more of their extremely annoying and somewhat useless website blocking tactics, and hope now that they'll leave us alone to get on with what we've been doing best – bringing to you our observations of Beau and Swift, and their ongoing lives up the Concrete Hilton, on Orange campus.
You'll also notice we've updated the look of the website to something more modern. In doing this we've noticed that the capability to leave comments has been turned off so as soon as we're able to we'll repair this feature as well (Ed.- you can leave comments by going in to the post itself!), but in the mean time we hope that routines will return to normal very soon…. especially with the exciting news of this, our 6th observed breeding season's eggs, underway as we speak (write).
Also problematic has been the issue that both Cilla and myself have been overseas for extended periods recently, and consequently access to the website for maintenance, the cameras, the surveillance/recording systems etc have been interrupted. We should both be back on deck now, and the most exciting news is that the recently purchased Axis 3384 camera which will replace the very old ledge camera view is up and running, and initial tests have provided us with stunning quality results, both during the day and at night. Stay tuned – the new ledge camera isn't far away now!
Apologies once more to our devoted viewers – I think we're on top of all the troubles this time!….. and now it's over to our peregrine falcons once more…..
Scott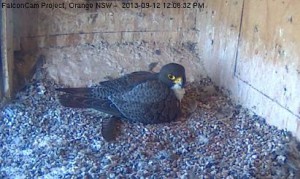 Beau on remaining 2 eggs