As you can tell by the lack of new posts it's been a quiet and "regular" week around the Concrete Hilton. Various appearances by all three peregrines have given us the odd view but generally no further real milestones.  Beau, Swift and Solo have all turned up at odd times, briefly.
This morning Beau brought his own breakfast up on to the ledge but then swapped places with Swift, and Solo has appeared on the tower and around the trees (we can tell just by listening!).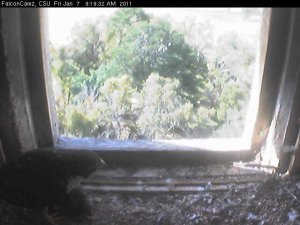 This improving summer weather, with longer dry bits, must be improving their hunting capabilities and will finally give Solo a decent chance to hone her skills.