After a couple of days of worry and concern for our new fledgling myself and friend, Lydia, took another desperate trip out to campus to go 'in search of' one more time this weekend. We waited until about 6pm when the early summer evening still had some light left in it. Almost immediately we spotted a bird in the pine trees below the tower. Swift was spotted sitting happily up on top of the tower but the bird perched on one of the branches just below the branch which Swift has been frequenting lately proved to be our Solo. We managed to sneak up close behind a well camouflaged, low hanging acacia branch and got to within about 25 metres (approx 80 feet). Close-up photos show it's Solo !!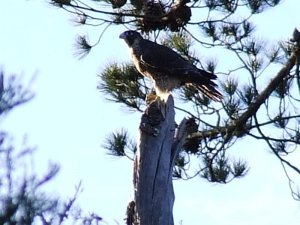 Apologies for the bad quality pics – it's what happens when at half light, with full zoom, including trashy digital zoom in some cases! Undoubtably it's our Solo in the above pic. We have brief video clips of her calls and it's quite different to both parents, as were recorded yesterday. More pics are over to the right in the "More Solo …." gallery.
It's a HUGE relief to know she's OK and we can now tick that empty box we had left open.
Her antics also proved her identification; happy to walk up and down the branches, sometimes bouncing from one to another, testing the wind with her outstretched wings when a breeze picked up, the odd call to mum (who never left the tower for the 2 hours we quietly observed). As evening closed in we were even treated to a loose flying circuit of the trees as Solo attempted to gain height to get up to the more exposed "lunch branch" where Beau and Swift normally eat. We waited for Beau to return with dinner but no sign, in the meantime Lydie acting as a mosquito attractant! Both Swift and Solo uttered helpless calls for us, but in vain before settling in for the night.

We will all sleep better tonight knowing she's back; we can but wonder where she's been and where she's been hiding …
Scott